New Visa.
Banking stays the same.

We are switching to Visa Business Debit Cards for business accounts.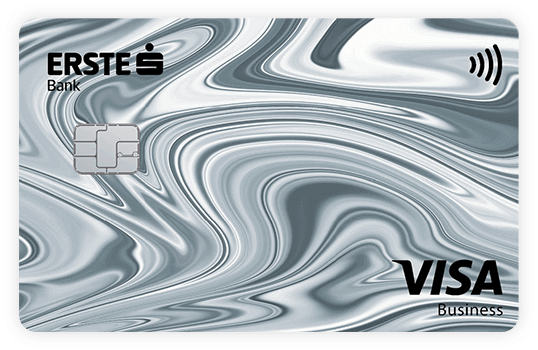 When opening business accounts, Erste Bank will from now on issue Visa Business Debit Cards. During 2020, all existing MasterCard® Business Cards will be replaced with new Visa Business Debit Cards free of charge.

Internet in your pocket
In a vast sea of internet payment possibilities, Visa is flawless. Whether you want to pay directly or want to use PayPal.

Card in hand
You do not have to separate from your Erste Visa Debit Card ever again. Just press it against the device and pay – contactless.

Approval by PIN number
To approve your transactions with Visa Business Debit Cards on points of sale and ATMs, use a PIN number.


Security comes first
Your data – name, card number, CVV – is now at the back of your card, conveniently hidden from unwanted looks.

World on your palm
Visa takes you everywhere you want to be. You can pay or withdraw cash from ATM's almost anywhere in the world.

What can you do with your new Visa Card?
Withdrawing Cash Worldwide
You can withdraw cash at Erste Bank's and Erste Group's ATMs in Austria, Hungary, Czech Republic, Slovakia, Serbia, Romania, Montenegro, Bosnia and Herzegovina, Macedonia and Moldavia without additional fees, or with the additional fee if the service is provided by the ATM of another bank.

Cash Deposit
With the card and contracted transaction account you have the possibility to pay i.e. deposit cash at ATMs with both payment and withdrawal function, ATMs with deposit function and Automated Coin Deposit Machines, owned by the Bank.

Cashless Payments
Pay at points of sale with Mastercard label around the world, and shop online safely with Mastercard SecureCode service.

Issuing Additional Cards for all Assignees per Business Account
Additional business card can be issued at the request of a business entity to authorized users who are listed in the Request for Card Issuance.

Expenses control
Limits can be determined for each card linked to the account of a business entity. Business entity may at any time deny cash withdrawals at an ATM or card usage at a point of sale to each authorized card user.

Free Pin Change at Erste ATMs
You can change PIN for your card at any Erste Bank ATM free of charge.

Frequently Asked Questions
Erste Bank has adopted the decision on business cooperation with Visa Europe based on which it will offer its clients products with the following benefits:

bigger number of points of sale on a global level that accept Visa Cards
wider acceptance on the internet
possibility to use on PayPal (payments and payoffs) for private and business users

You will receive a letter with your new Visa Card that will also include expiry date of your current Mastercard Business Debit Card. After that date, the card will be blocked automatically and you will not be able to use it.


All existing active MasterCard Business Debit Cards will be replaced by the end of July 2020 at the latest.

Find out more about services and benefits: