The service is intended for all legal entities engaged in selling products or services on the Internet. In order to use the service, you must first enter into a contract regulating the activation of Erste NetPay service.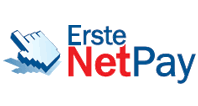 How does the service work?
1
The customer visits the online shop and selects the products he/she wants to buy. The customer chooses Erste NetPay as payment option.

2
Erste NetPay service automatically redirects the customer from the page of the online shop to Erste NetBanking login page.

3
After successful registration, Erste NetBanking creates a completed payment order. Order amount equals the amount of purchase and is addressed to the online shop from which the buyer has been redirected to Erste NetBanking.

4
All fields of the payment order have already been filled out and the customer cannot change anything other than the account that will be used for this payment. Once the customer confirms the order, purchase is made. The customer is charged a regular fee for payment via Erste NetBanking.

5
The Bank transfers the full amount of the payment to the account of the online shop managed by Erste Bank, and the online shop receives a payment receipt, which serves as a basis for the delivery of purchased goods.

6
The Bank charges the online shop a fee for the usage of Erste Netpay service at the beginning of the month for the previous month of service, for all transactions that were carried out, in the monthly invoice for payment services.

additional payment method on the Internet Immediate transfer of funds to your account Simple implementation
more safety - customers pay in a familiar and safe Erste NetBanking environment (user name, password and Display card)
fees equal to fees for credit card transactions
acquisition of new customers who do not have credit cards or do not want to use them for online payments
enabling quick and easy purchase to customers - without manually filling in the payment order and entering personal information on websites
Find out more about our other e-banking services for business clients