We value the individual. This is true for the millions of clients whose needs we strive to fulfil, but also for our employees. Each Erste Group employee is selected for their skills, personality and attitude. We believe that respect, creativity, a desire to work and a positive attitude contribute to the vision that began 200 years ago: to be the first choice bank!
We are not just bankers here. One of our goals is to help people manage their personal finances. Creating and sharing value is a concept we created a long time ago, and we still stick to it.
Diversity is part of our DNA - back in 1819 it was stated in the founding document of the Erste Oesterreichische Sparkasse: Benefits are provided to all depositors of the Savings Bank, regardless of age, gender, social status or nationality.
Diversity leads to excellence. The best ideas come to life when people with different experiences and skills work together. By encouraging and appreciating diversity, we become more creative and create more innovative solutions. For us, an inclusive corporate culture means an environment where we respect individual differences, give each other the opportunity to express their opinions openly, and support the #believeinyourself attitude.
The world is diverse, and that is what we want to be as an organization. Therefore, diversity is integrated into our competency models, education and development programs and is an integral part of our corporate strategy.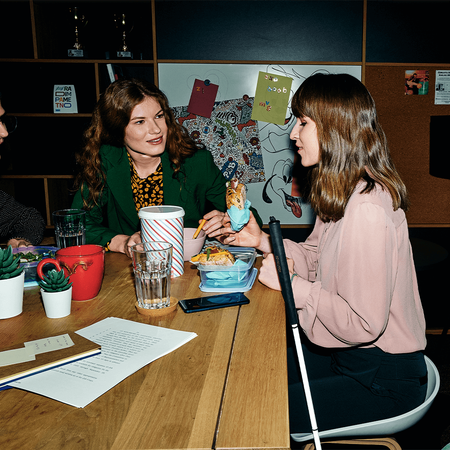 1
Raditi nešto značajno

Zarađivanje može imati dublje značenje kad je posao koji osoba obavlja zanimljiv, pričinja zadovoljstvo, nekome je potreban i predstavlja razliku. Ovdje svaki posao doprinosi zajedničkom cilju pomaganja klijentima da bolje upravljaju svojim financijama, što predstavlja dobar razlog za kvalitetan rad.
2
Ljudski pristup

Zarađivanje može imati dublje značenje kad su ljudi uvijek na prvom mjestu. Kada vas poštuju i prihvaćaju u cijelosti, sa svim vrlinama i manama. Cijenimo emocionalni aspekt posla i trudimo se da se zaposlenici dobro osjećaju na poslu. Ovdje niste samo zaposlenik, ovdje ste osoba.
3
Imati odgovornost

Zarađivanje može imati dublje značenje kad možete donositi odluke, utjecati na druge, upravljati svojim profesionalnim razvojem i svojom karijerom. U Erste Groupi cijenimo slobodu i snagu zaposlenika kao pojedinca te potičemo zaposlenike da preuzimaju odgovornost u rješavanju problema. Nije uvijek moguće svima omogućiti potpunu autonomiju, no cilj je Erste Groupa što više potaknuti osjećaj odgovornosti kod svakog zaposlenika.
4
Razvoj (osobni i profesionalni)


Zarađivanje može imati dublje značenje kad imate viziju svoje karijere, kad se možete osobno i profesionalno razvijati, kad radno mjesto predviđa redovite edukacije i izazovna iskustva dugi niz godina. Kad god je to moguće, našim zaposlenicima omogućavamo da se razvijaju osobno i profesionalno
5
Uživati u poslu


Zarađivanje može imati dublje značenje kad uživate u odlasku na posao, kad je radna atmosfera dobra, kad postoji izvrstan timski duh i kad je suradnja s kolegama kvalitetna. Kroz dužinu rada zaposlenika u Erste Groupi, može se vidjeti koliko ovdje vole raditi!

6
Raditi za dinamičnog poslodavca


Zarađivanje može imati dublje značenje kad je vaš poslodavac među najboljima na tržištu, kad nudi inovativne i napredne proizvode i usluge, kad mjesto gdje radite nudi izazovno, poticajno i produktivno okruženje. Kad znate da je vaš poslodavac cijenjen na tržištu, možete biti ponosni što ovdje radite. Kad radite ovdje, radite u jednoj od vodećih financijskih institucija u istočnoj Europi.

7
Doprinositi društvu


Zarađivanje može imati dublje značenje kad radite za poslodavca koji pridaje pažnju društveno odgovornom poslovanju. Erste Groupa podupire mnoge društvene projekte, projekte u kulturi i međunarodne projekte, i to kao banka usmjerena na poslovanje s građanstvom.

You might be interested in