Zagreb, 11 December 2018 – Today Erste banka presented KEKS Pay, an innovative mobile app for transferring funds quickly and securely, and completely free of charge. This is the first banking solution on the Croatian market available to all interested users, regardless of which bank they are customers of. The app is the result of the work of Erste banka's internal start-up which was founded to research innovative solutions and business models. The primary goal of the app is to facilitate everyday situations such as sending funds to a friend's or family member's account or raising funds as a group for various occasions. The daily transaction limit is HRK 1000.
The app is particularly interesting due to its simplicity. Anyone can install it for free and use it to send or request funds from friends without needing to enter anyone's account number. To transfer funds to another user, one needs only their mobile phone number and opening an account is not necessary.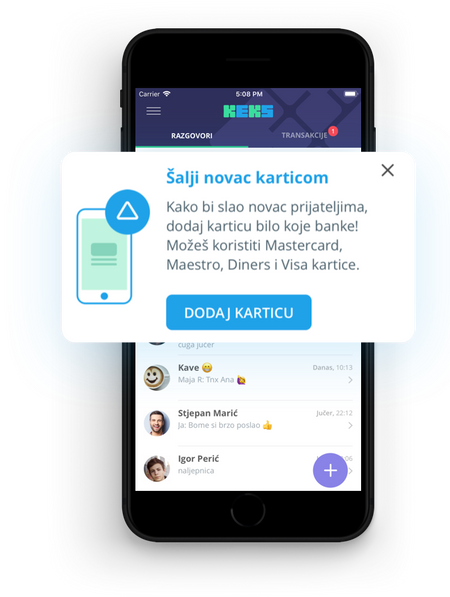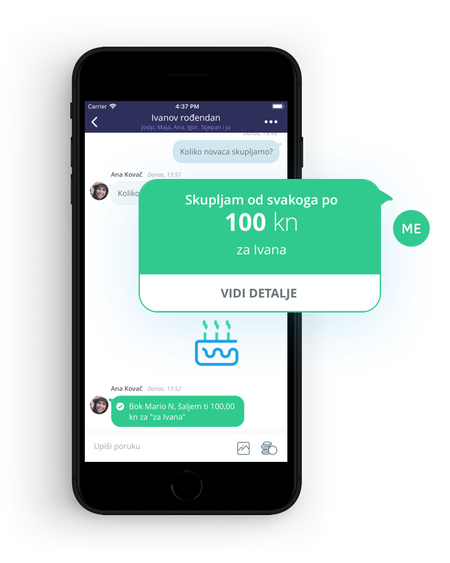 The user can send funds from a card they normally use, whether it is a debit or credit card, or from a current account, and the funds will be transferred to the IBAN that the recipient has provided. In addition to transferring funds, KEKS Pay also allows users to raise funds through a chat group comprised of friends or family members for various occasions, such us buying birthday and wedding presents or paying for joint trips.
"The banking industry is undergoing major changes, particularly with regard to technology and the legal framework. The new PSD2 regulations, the emergence of new players, the fintech start-ups and their arrival on the banking market are just some of the changes that have occurred or are yet to occur. That is why Erste banka founded a special start-up which is focused on these very changes and uses them productively, with KEKS Pay being a result of adjusting to new circumstances. The idea behind the app was to make it simple and available to everyone, regardless of whether they are a client of Erste banka or another bank, and to provide a solution for a specific problem that users encounter every day. For situations like owing money for lunch or movie tickets, or raising funds for a gift or party, but without keeping a record of who paid for what and dealing with cash, KEKS Pay allows users to create a chat group, sharing costs and raising funds digitally. I believe that this is precisely the purpose of digital innovations – to make clients' everyday life easier by serving as their assistants in every action or transaction," said Dejan Donev, head of the Digital Transformation Team at Erste banka, while presenting the app.
In addition to the above, it is important to note that the app was developed in line with the highest data encryption standards and the PCI DSS regulation on the protection of card numbers, and is further protected with a PIN or biometric authentication.
Corporate communications
Zagreb, Ivana Lucica 2, e-mail: pr@erstebank.com
Dario Gabric, tel.: +385 (0)72 37 13 71; mob: +385 99 2371 371
Danijela Trbovic, tel.: +385 (0)72 37 15 31; mob: +385 99 2371 531
Sara Zadravec, tel.: +385 (0)72 372 493; 099 2372 493