Zagreb, 15 May 2018 –The EBRD Trade Facilitation Programme (TFP) has honoured its most successful partner banks in 2017 in an award ceremony at the Bank's Annual Meeting and Business Forum in Jordan. Erste Bank was awarded for 'Most Active Partner bank in in Croatia. On behalf of Erste Bank, Boris Centner, member of the Management Board  and Sanja Gracin, head of Trade and Export Finance received the award. . The event attracted more than 250 representatives of banks under TFP, as well as decision-makers in trade finance to discuss industry challenges with leading experts, including regulators.
Erste Bank and the EBRD signed the TFP Programme in May 2015 aiming to promote growth through trade finance activities and support exports. Through the EBRD TFP Programme, Erste Bank provide  its clients improved financing conditions and financial means that alow companies to explore and conquer new markets. Through this programme, Erste Banksupported transactions and disbursed funds totalling the programme limit of EUR 10m. EBRD and Erste Bank are currently negotiating additional 10 million limit in order to facilitate the best possible financing means to the exporters, importers and distributors to strengthen their competitiveness in new markets.
"We are proud that the EBRD has recognized Erste Bank as the most active partner bank on our market in trade finance . Our goal is to support Croatian companies through innovative financing means and business solutions in order to strengthen their position on international markets. Aside from this programme, as a commercial bank, we use several EBRD credit lines totalling EUR 90m to finance micro, small and medium-sized enterprises and as well as energy efficiency and renewable energy projects in public and private sector. New credit line for financing of tourism is being planned at the moment," said member of the Management Board Boris Centner.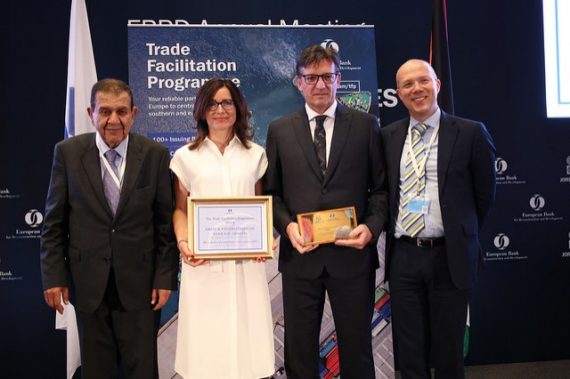 Launched in 1999, the EBRD's TFP Programme, aims to promote foreign trade to, from and among countries in which the EBRD invests. Through the programme, the EBRD provides guarantees to international confirming banks and short-term loans to selected banks and factoring companies for on-lending of funds to local exporters, importers and other distributors. At the moment, TFP includes 94 partner banks in 26 countries, with limits exceeding EUR 1.5bn, and more than 800 confirming banks worldwide.